Oneness
Everything is interconnected, all is one with the universe. This idea is an ancient wisdom that is now confirmed by modern science.
It is normal to see things as separate, but in fact, all things are closely interlinked. Even particles on a subatomic level interchange between human beings, between a human and a tree, a rock, and other surroundings. The skin and visual boundaries are just optical illusions.
You and I are all as much continuous with the physical universe as a wave is continuous with the ocean. – Alan Wilson Watts
The interconnections are not only physical but also psychological. If you take a good look at your mind, you'll see that it consists of influences from your parents, friends, teachers, culture. Any idea we have can be traced back to its root causes - to the point when it first appeared in our mind and then what external conditions and cultural influences created it.
We are all parts of one inseparable web of relationships.
All organisms and their inorganic surroundings on Earth are closely integrated to form a single and self-regulating complex system, maintaining the conditions for life on the planet. – Gaia Hypothesis
Oneness is the foundational truth as it represents the essence of reality. It is not a dogmatic belief and not a religion. Oneness can be observed by anyone willing and able to see through the illusion of separateness.
Oneness symbol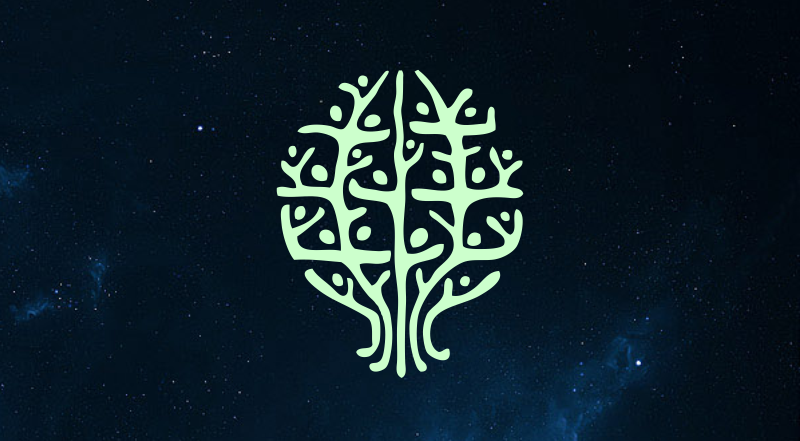 This is the symbol for Oneness.
The symbol is presented as a metaphor of us and the earth. It is a big organism and we are inseparable parts of it. The earth is also a part of an even bigger organism. It's like a tree with roots that extend to the vast cosmos.
Looking from another perspective, you can interpret the symbol as universal consciousness - a special experience that all of us share.
It is also a metaphor for the holistic mind and collective intelligence.
The purpose of the symbol is to visually explain the idea of Oneness, and to start a conversation.
While we are all one, we are wired to see ourselves as separate. No one knows why. It can also be just a transitional state toward Oneness.
The mission of the symbol is to spread the message about Oneness and to raise important questions: Why humans are seeing the world through the illusion of separateness? Are we ready to change our fundamental beliefs about life?
A human being is a part of the whole called by us universe, a part limited in time and space. He experiences himself, his thoughts and feelings as something separated from the rest, a kind of optical delusion of his consciousness. This delusion is a kind of prison for us, restricting us to our personal desires and to affection for a few persons nearest to us. Our task must be to free ourselves from this prison by widening our circle of compassion to embrace all living creatures and the whole of nature in its beauty. – Albert Einstein
Origin of the symbol
Oneness symbol was created in 2011-2013, as a part of the Radical Course project.
One early spring day, after a lot of research and sketching, the symbol was visualized while being outdoors, experiencing Oneness of things and processes. The initial design was sketched on the ground covered in snow. Using a computer, the rough sketch was quickly turned into graphic design. The symbol was then published on the internet for people to find and use it.
Because of the strong symbolism used in the symbol, and universal, relatively simple forms, the meaning of the symbol can be felt intuitively, even without the explanation. Just by looking at the symbol, a person from any culture can grasp the idea of Oneness.
An all-encompassing nature of Oneness
While working on the Radical Course project, there were many options for what ideas to visualize. After a while, it became clear that the two ideas, Mindfulness and Oneness, can fully reflect the fundamental nature of reality.
Oneness encompasses all ideas about life, and through the idea of Oneness, everything else can be explained. While Oneness explains the reality as a whole, Mindfulness is for the reality we experience on an individual level.
Through Mindfulness, we can experience Oneness.
Eckhart Tolle in his book, The Power of Now, both Mindfulness and Oneness links with the experience of consciousness. When we are mindful, we start seeing the interconnected nature of reality. The escape from the narrow "ego" worldview, which is possible through Mindfulness, opens our senses and thought processes to experience and understand connections hidden from a typical everyday worldview. It's a firmware upgrade for our mind, as Sam Harris puts it from his scientific point of view.
Below are other symbol ideas and their initial sketches. They were under consideration during the project's research and brainstorming phases. They were not finalized. The important thing is that all of these additional ideas can be derived from the foundational idea of Oneness.
Love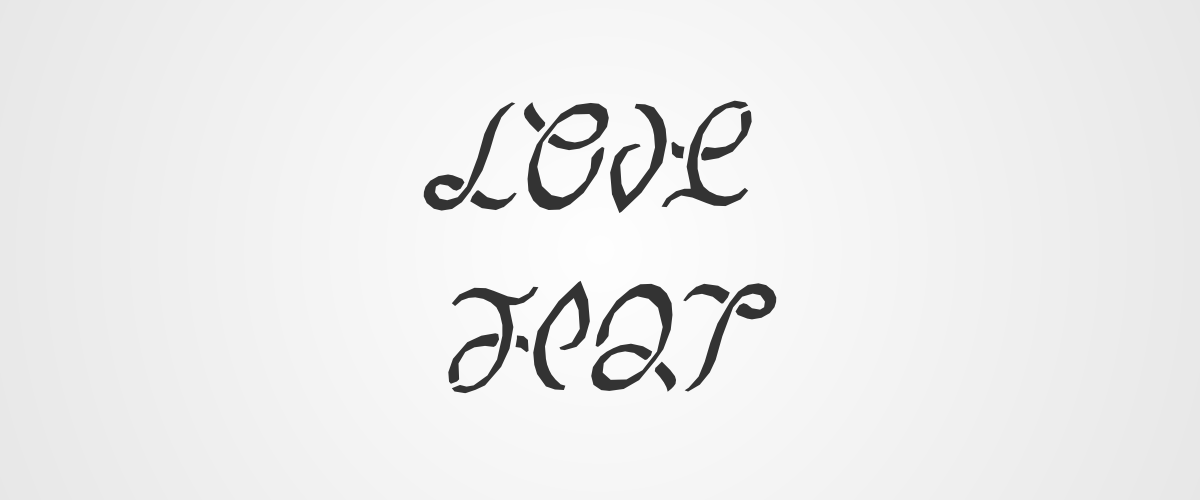 One of the most fundamental forces of nature, as we know it, is love. It often comes with its opposite - fear. That is why the idea for the Love symbol is an ambigram, which reads Love, and when rotated 180°, it becomes Fear.
Love is the disappearance of boundaries.
Oneness is Love, and the illusion of separateness is Fear.
If falling in love is not love, then what is it other than a temporary and partial collapse of ego boundaries? I do not know. — M. Scott Peck, The Road Less Traveled
Love is life. Everything that I understand, I understand only because I love. Everything is, everything exists, only because I love. Everything is united by it alone. Love is God, and to die means that I, a particle of love, shall return to the general and eternal source. — Leo Tolstoy
There are two basic motivating forces: fear and love. When we are afraid, we pull back from life. When we are in love, we open to all that life has to offer with passion, excitement, and acceptance. We need to learn to love ourselves first, in all our glory and our imperfections. If we cannot love ourselves, we cannot fully open to our ability to love others or our potential to create. Evolution and all hopes for a better world rest in the fearlessness and open-hearted vision of people who embrace life. — John Lennon
Intrinsic Human Value and Self Worth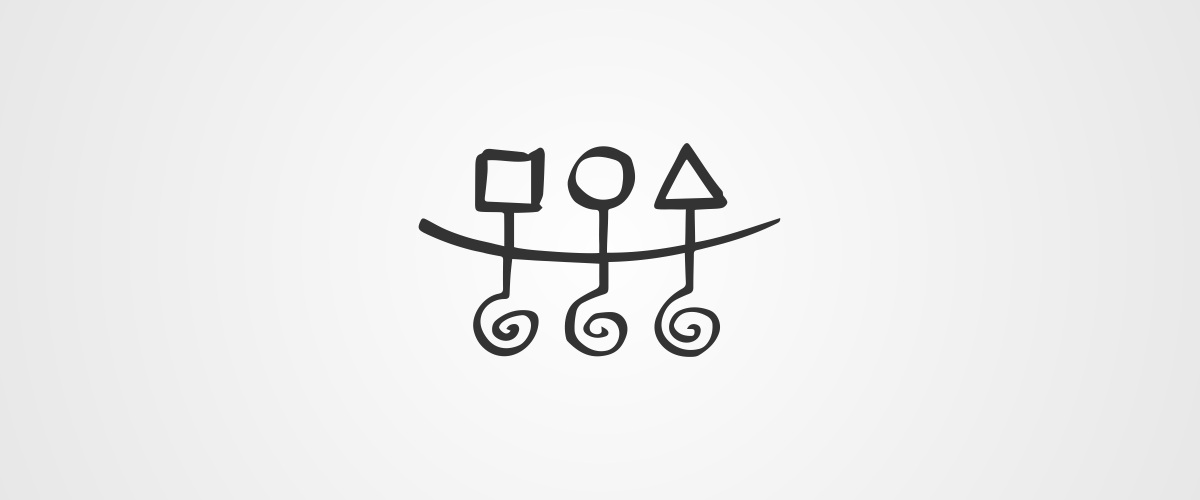 To create meaning in life, humans develop storylines. These stories are different interpretations of reality. There can be many of them like there are many gods and many truths.
Our societies function based on games that people play. Every player has a "score", a reputation, and on these things their quality of life, and possibilities for success depend.
This game of life is sometimes called the illusory Maya, the rat race, the matrix, and so on. This part of reality is represented in the upper part of the Intrinsic Human Value symbol. In this space, everyone differs depending on his or her external qualities and storylines.
The bottom part is where everyone is a human being, similar and equal to one another. That is where the true self-worth comes from.
According to the idea of true self-worth: I have value just because I exist, as a part of nature, a part of reality. Like anything or anyone in nature, my natural tendency is to grow toward self-realization. This is the type of self-worth that no one can take away from me, and I can always count on it, as it is always there.
Achievement does not, except by arbitrary definition, augment your intrinsic worth. If you see yourself as a "better" or "greater" person because you succeed at something, you may temporarily feel "worthier." But your successes actually do not raise your intrinsic worth one bit; nor do your failures lower your human value. You may achieve greater happiness or more efficiency by achieving this or that goal. But feeling "better off" does not make you a "better person." You are "good", "worthwhile," or "deserving," if you want to use these poor terms, simply because you exist, because you are alive. To raise your "ego" by achievements actually is a false pride: the Belief that you are worthless unless you have accomplished, and the accompanying Belief that because you have accomplished you have "real" value. — Albert Ellis
The Illusion of Free Will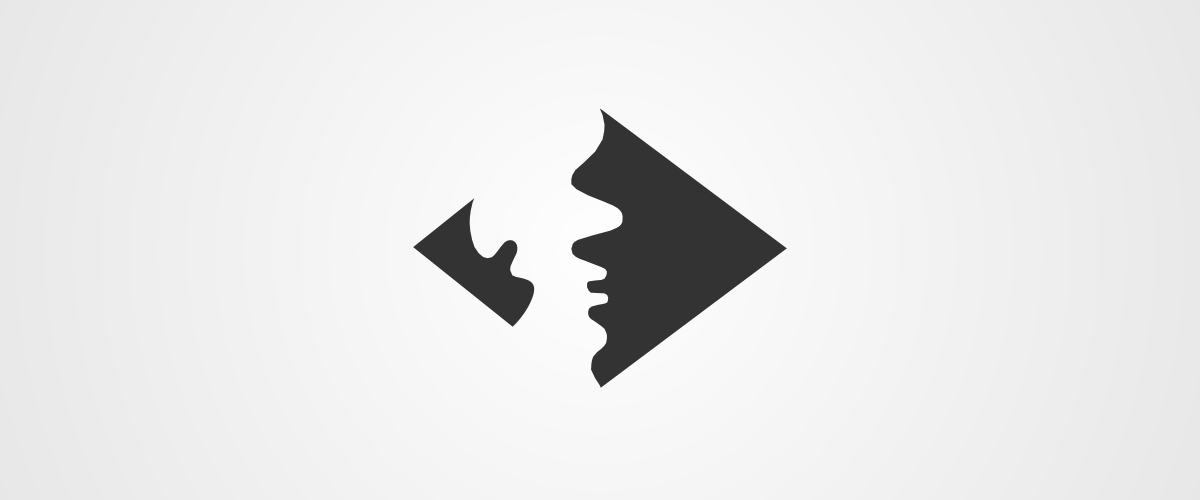 The illusory idea of free will blocks us from seeing reality the way it is. It also significantly distorts reality. While scientists and philosophers agree that the popular idea of free will is a myth, our societies still function based on it.
A good way to explain the illusion of free will is through an optical illusion. That is why the symbol for the illusion of free will is based on the figure-ground Gestalt principle.
When looking at the symbol, some people instantly see the white face, others see the black face, and some people see just abstract shapes. People cannot choose which image to see first because the brain makes the decision before the conscious mind is aware of it.
Later, it is possible to choose the image consciously, but this is also not a free choice. When we choose consciously, we are still being influenced by many factors that are out of our control.
This awareness of our conditioning and past influences actually helps us to have more choice. Instead of reacting automatically, with awareness we can pause, and choose differently. That's how we can learn to make better decisions in life and gain a higher level of freedom.
Another way to explain the illusion of free will is through the idea of Oneness. Since everything is a part of a whole, there is no such thing as an independent agent, free from an environment. For example, we see an apple as a separate object, but it is created and further influenced by forces that surround it. The apple is also a force that influences other objects.
The Awareness of Death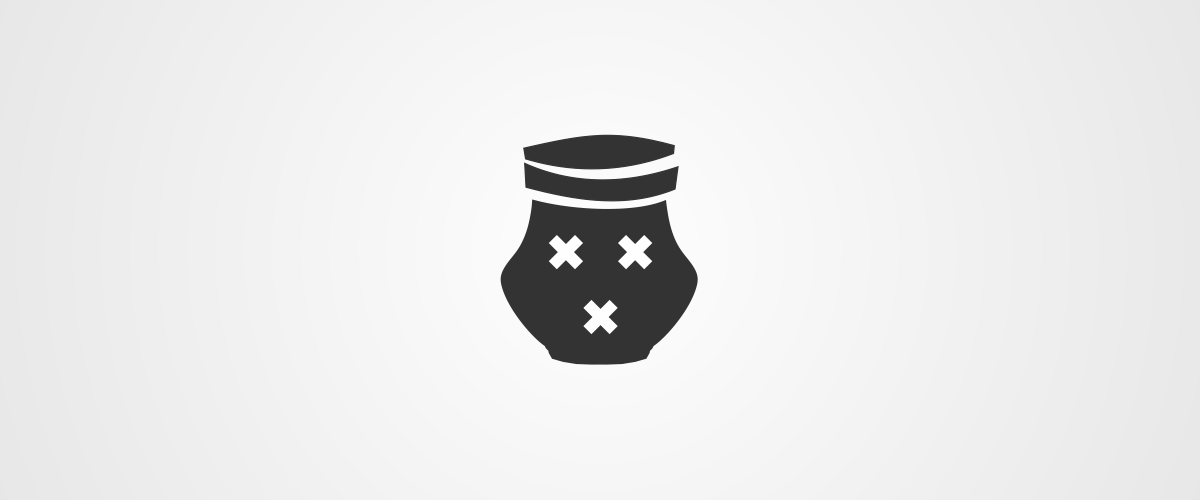 The awareness of death is a common theme among different cultures. Simply put, it states that you can only know the real value of life and live it to the fullest when you are aware of death. Memento mori, as the saying goes.
How this idea is related to Oneness is beautifully expressed in the poems and philosophy of Sufi mystic Omar Khayyam. He is referring to passed away elders as to pots, since when we die, sooner or later our bodies turn into different chemical elements of the soil. Some of these parts appear also in ceramic pots because the clay used to make them also comes from the same soil.
The idea for the Awareness of Death symbol is presented like a pot, with a face resembling a dead person.
For in the Market-place, one Dusk of Day,
I watch'd the Potter thumping his wet Clay:
And with its all obliterated Tongue
It murmur'd—"Gently, Brother, gently, pray!" — Omar Khayyam, Rubaiyat of Omar Khayyam
Ceaseless Striving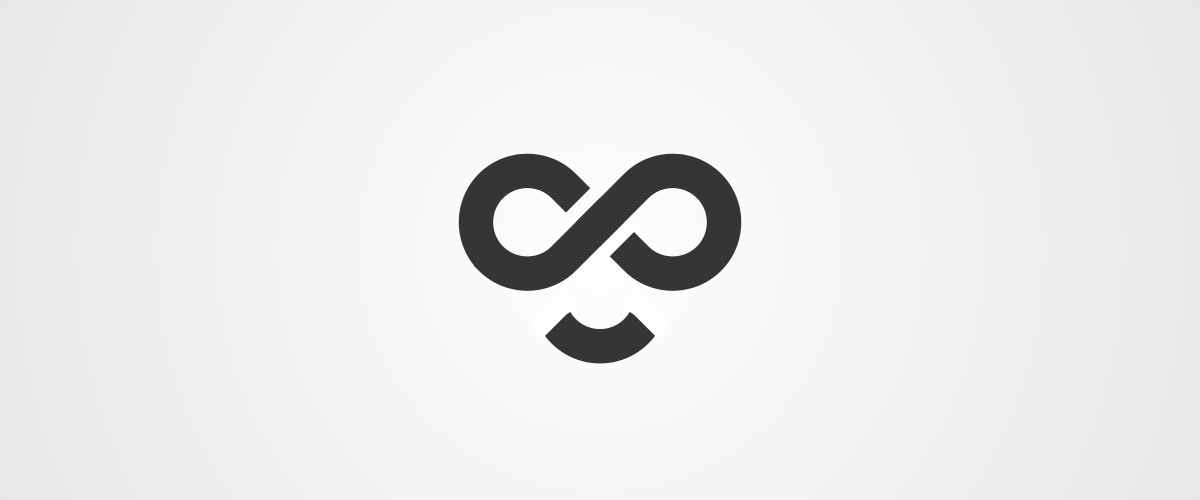 This idea is connected to both Oneness and Mindfulness and is an answer to the question what is the meaning, motivation, purpose of life?
Ceaseless striving is based on the general principle of movement. When we stagnate, we suffer. There is no need for traditional motivators or external achievements to feel good about life and oneself, since the process of the movement, while engaged in an activity of ceaseless striving, creates the reward in the form of a pleasurable, possibly even results-driven, process.
The idea for the symbol for Ceaseless Striving is a minimalistic face representation. For the eyes, the infinity sign is used. This reflects the infinite space and time of Oneness and shows the ceaseless striving (without end, infinity) attitude.
Happiness is not a state but a process, a continuous striving. Aristotle defined it as an activity. Marcus Aurelius, an earthier Roman, likened it to wrestling. Or maybe it is both a state and a process. The ancient Greek term, eudaimonia, captures something of both interpretations and translates roughly as flourishing. This is an appealing idea: to be happy is to flourish.

And, like Buddha, Spinoza is often dismissed as a mere seeker of tranquillity – but what he valued most was joy, which he defined as a sense of empowerment created by the understanding mind. But, again as in the teachings of Buddha, understanding is not a passive, final state, but a process requiring ceaseless effort. In another insight prefiguring neurobiology, which defines living organisms as systems for optimizing life conditions, Spinoza suggested that our very nature is to strive. His Latin word for human nature, conatus, means 'striving' or 'endeavour': 'The striving by which each thing attempts to persevere in its being is nothing other than the actual essence of the thing.' And the striving has to be difficult to be valuable: 'If salvation were readily available and could be attained without great effort, how could it be neglected by almost everyone? All that is excellent is as difficult to attain as it is rare.'

To survive is to strive. The problem is the tendency to strive for the wrong things, especially to emulate those who have found worldly success. The human creature is a search engine of great power and sophistication, but with little idea of how to choose search parameters or evaluate results. So, when misguided striving fails to provide satisfaction, there is a tendency to believe that the alternative must be a rejection of all striving, that the answer is to lie on a Caribbean beach lathered in coconut oil. — Michael Foley, The Age of Absurdity
What man actually needs is not a tensionless state but rather the striving and struggling for some goal worthy of him. What he needs is not the discharge of tension at any cost, but the call of a potential meaning waiting to be fulfilled by him. — Viktor E. Frankl
While all of the above ideas are truly fundamental and essential, they all are parts of a bigger story which is Oneness.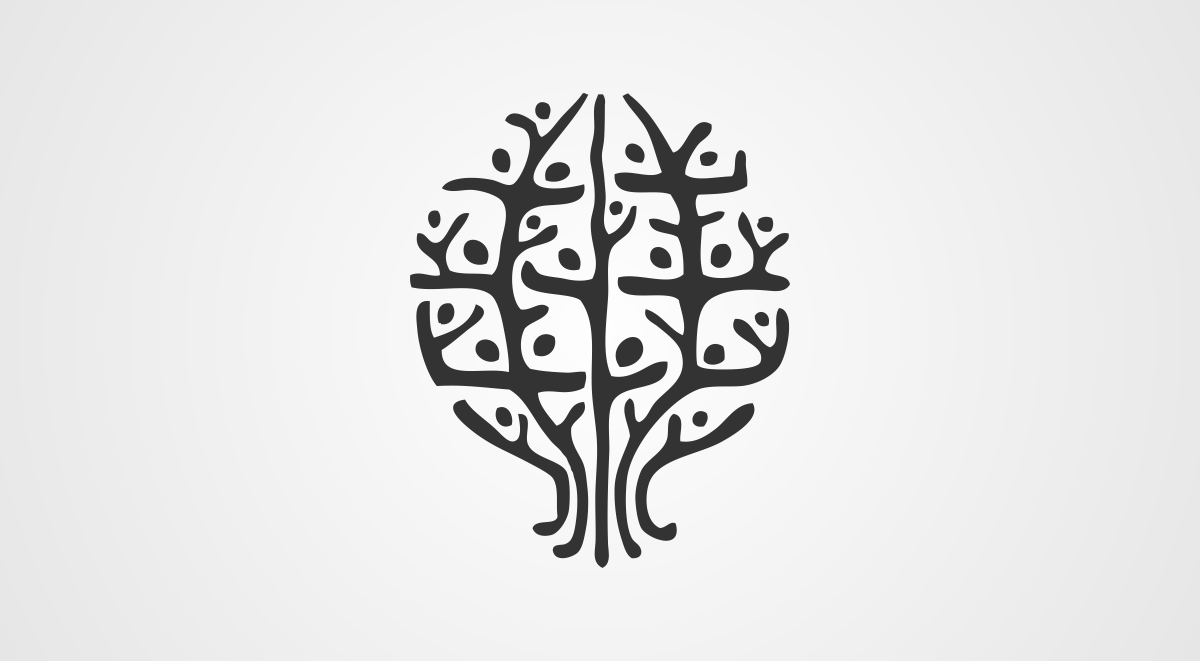 Symbol use cases
Oneness symbol can be used by anyone. It cannot be registered as a commercial trademark. Oneness symbol belongs to everyone.
The purpose of the symbol is to communicate the message about Oneness.
Oneness symbol is open-source and free to use. It can be creatively interpreted and used in different ways and different media.
Download high-quality files of the symbol: PNG | PDF | SVG
You can find more pictures on our Tumblr page. Send us your pictures by email.

Spread the message.